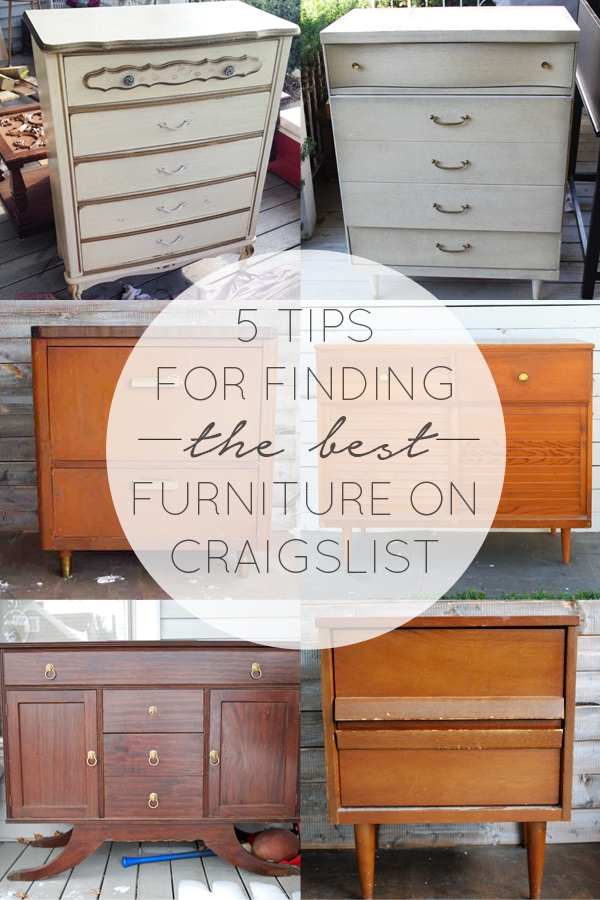 Craigslist is one of my favorite places to hunt for furniture, but it can be so hit or miss. I love the thrill of finding an awesome piece and sending out that first email, waiting anxiously to hear back. Some days I feel like I've hit the jackpot, and other days, I feel like all I'm seeing is photos of the same brown, suede couch that not even the poorest college student would take for free.
After stalking Craigslist for a while now, I've come up with some tips to help you find that perfect piece of furniture.
1.) Search by Image Only
This might seem like a given, but it's the very first thing I do after I click into the furniture or free category. If you don't have a photo; I'm not interested.  I don't care how well you describe that beautiful antique dresser you have from your grandmother. It definitely doesn't look as good as you say.
2.) Check the Site Frequently
People are posting on Craigslist all day, every day. I honestly have no idea if there is a more prime time to look, but the more you check it, the better your chances are of finding that perfect piece. I tend to forget about Craigslist if I'm not in immediate need of a piece of furniture. But it's always a good idea to peek in from time to time. You might not know you needed that awesome table until you see it. Mornings tend to be a good time to look and then again at night. Throw in another viewing around lunch if you have the time!
3.) Use the Search Function
Sometimes I forget about this, or I'm not looking for a specific piece so I just browse the whole category. But this has been super helpful in finding some amazing pieces. And you don't have to just search by type of furniture, like chair or table. I try searching by style, like "Mid Century Modern". This can pull up pieces that are buried under pages of crappy furniture that are listed on page 10 that you might have never seen. There is the risk of these pieces being days old, but sometimes you get lucky and they're still available.
4.) Search Nearby Cities
As you know, I live in PA but I'm from NY and my parents still live there. I constantly search in their area to see what there is. This actually just recently led me to one of my most amazing finds. (I'll be sharing soon). But if you have family or friends in different areas that you see often or could make a trip to see and they don't mind doing the dirty work for you, definitely search the Craigslist in their area. Even if you're going on a trip and know you'll be passing through certain cities; do a quick search. This is taking things a bit to the extreme, but we all know how exciting it is when you see that perfect piece of furniture you just can't live without.
5.) Be Persistent!
This relates more to the process after you've found that must have piece. You want to let the seller know you're interested and not a whack job. If you've spent any time on Craigslist you know how much of a rush it is when you send out that first email and finally hear back that "yes it's still available and yes I'll go lower." But if you don't hear back right away, send a follow up. And then send another. Seriously, it can't hurt and they'll be more likely to sell to someone they know is super interested. Sometimes I even throw in a sentence or two about how perfect the piece is going to look in my home, or what my plans are for it. Lure those suckers in!
Sometimes Craigslist just plain stinks and there won't be anything good for days and days, but these five tips have helped me score some seriously awesome pieces.