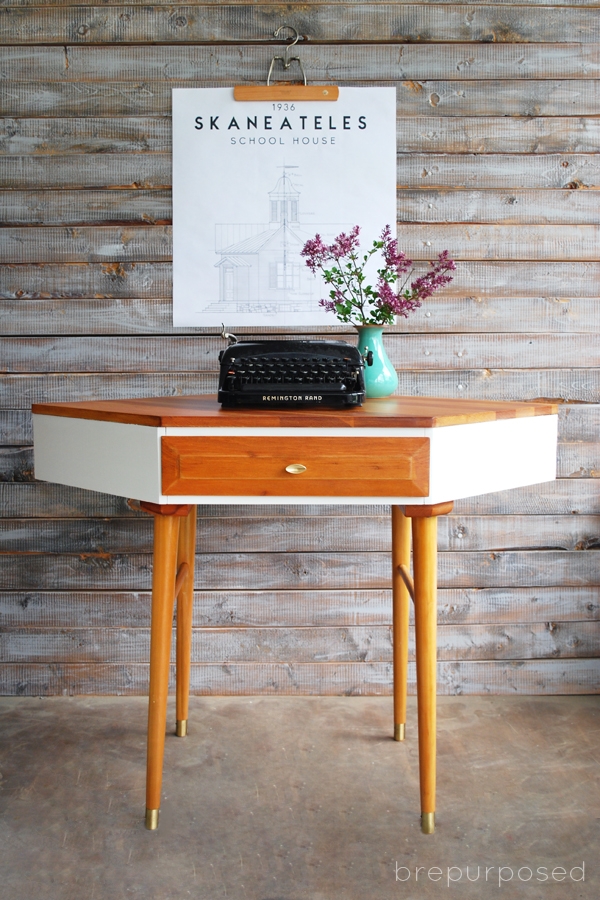 Ah it feels good to share a new piece of furniture with you! As I mentioned last week, things just weren't going my way and I took a little break from posting. This is the table that I would have shared on Thursday for Themed Furniture Makeover Day. The theme was Small Tables and this guy fit the bill perfectly.
I've shared it on Facebook and in my What's on My Porch series. Here's a little refresher of what it looked like before: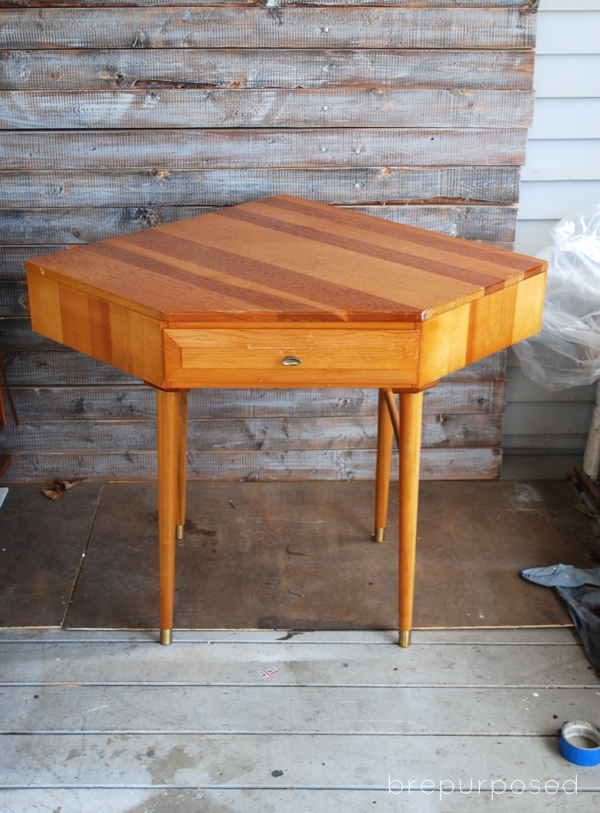 As you can see I didn't change much. The wood was just too pretty to paint over the whole thing, but I did want to modernize it a bit with some white accents.
I started by wiping down the whole thing and giving it a good cleaning. I initially thought I was going to be able to keep the top as is and just revive it a bit with some oil or wax. So I went ahead and started painting the sides. Once I was done though, the crisp white just didn't look right with the few dings and scratches that were there.
So I had to go back and cover up my freshly painted white sides with some paper and tape so I could sand down the top and bring it back to life. I was out of sanding pads for my trusty corner cat, and asked the hubs to pick me up some while he was out. Welp, I figured he could read my mind and knew that I wanted super coarse ones. Nope. He came home with the complete opposite; super fine. I figured I'd give them a try and see how they worked. At this point I was still thinking I was going to get this thing done by Thursday and it was Tuesday night.
I sanded it down and thought it might be ok so went ahead with the stain. After one coat, I could still see a lot of the scratches and knew I wasn't going to be happy with it. I'd had enough for that night and it was too late to go to our local hardware store to get more sanding pads. I'd come to terms with the fact that I wasn't going to get this guy done in time.
The next day, I used some much coarser pads and gave the table a good, deep sand. Now this is the first time I've used a light colored stain. And I was a bit nervous! I don't know why, but there's just something about applying a gorgeous dark stain to raw wood. The effect isn't really the same with a lighter color. Although, it appears really dark in the can and I thought for sure I had picked up the wrong color.
Luckily it went on nice and light and was pretty much a perfect match to the rest of the table.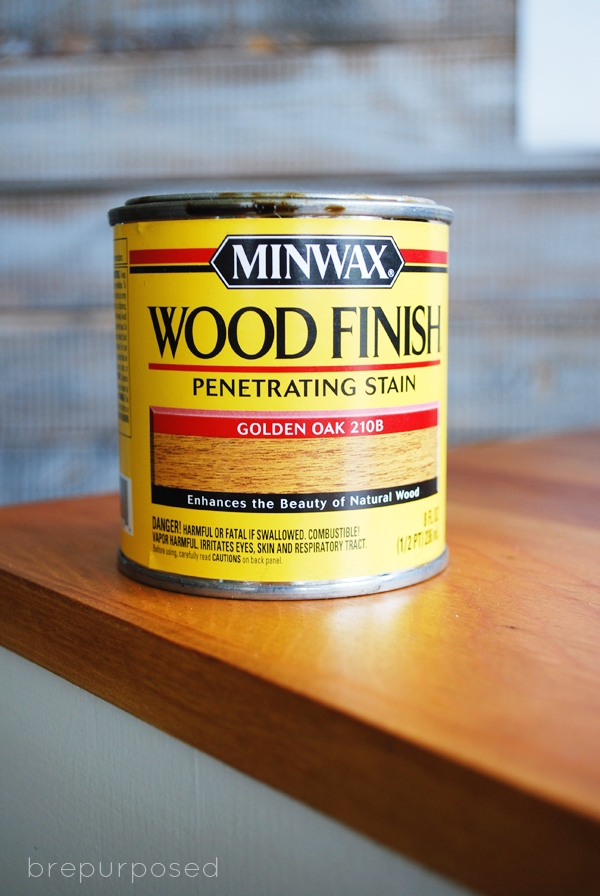 I used this for the top of the table and the drawer and left the legs as is since they were in pretty great shape. I used some flat topcoat to seal the entire piece.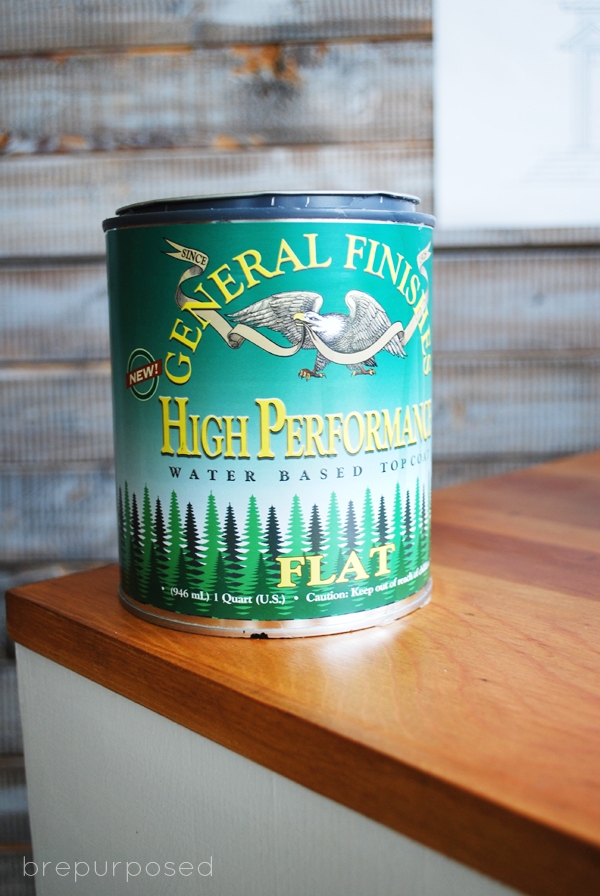 Sorry for the lack of process pics. I was getting angry with how things were going, taking photos was the last thing on my mind. #bloggyfail
I love when I buy a piece that has a label on it so I can learn a little more about it. The inside of the the drawer has this: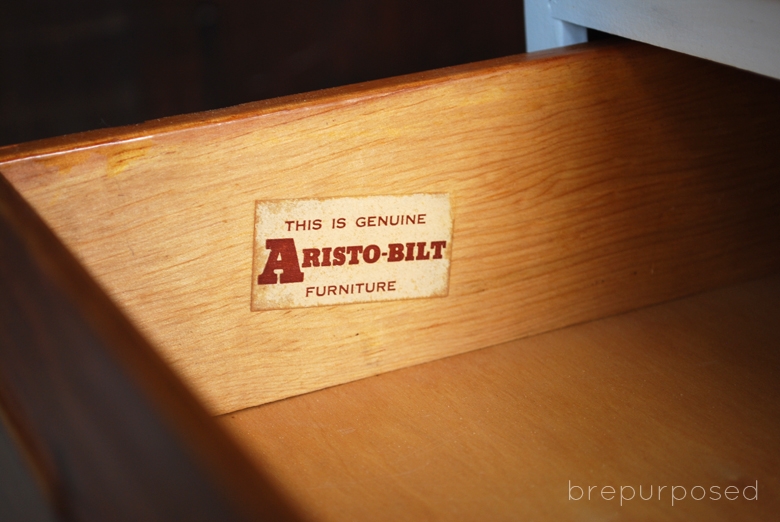 I did some research and came across this old newspaper article from 1955.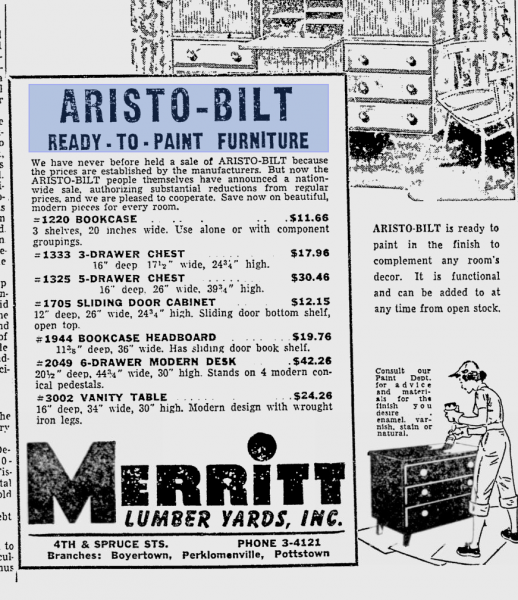 I just love finding stuff like this and imagining the life this little table had. Was it originally stained in this light color, or did it's previous owner do it? And I mean come on, "Ready-To-Paint Furniture"?? Sounds like perfection to me 🙂
The final touch was giving the original hardware a fresh coat of gold spray paint. I don't know if any other knob would look as good. It's so tiny and cute, I just couldn't change it.
I want to tell you about the art print that I hung above it too. Skaneateles is my home town in Upsate NY and I did some googling a while ago looking for old photos I could use. It's awesome to see all the old maps, postcards, newspapers etc. that pop up. The internet is seriously amazing.
Anyway, I found these cool blueprints from an old school house that is actually right up the road from where I grew up. Luckily they were pretty high resolution and I was able to download them and bring them into Photoshop to resize. I added the text myself and then I sent them to Staples as Engineering Prints. If you've never done this before, it's the cheapest way to get some large scale art. However, they only do black and white. You can get a few different sizes, I think I used 24×36 and it was like $3. What a deal right?! I ended up cutting off the bottom half because it looked too big along side this piece.
And now I have some awesome art that has special meaning and cost me pennies!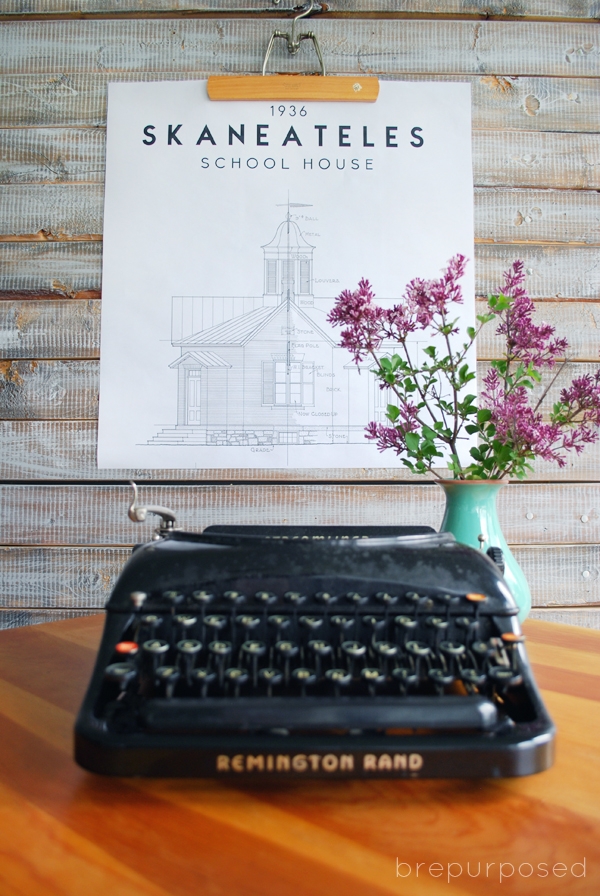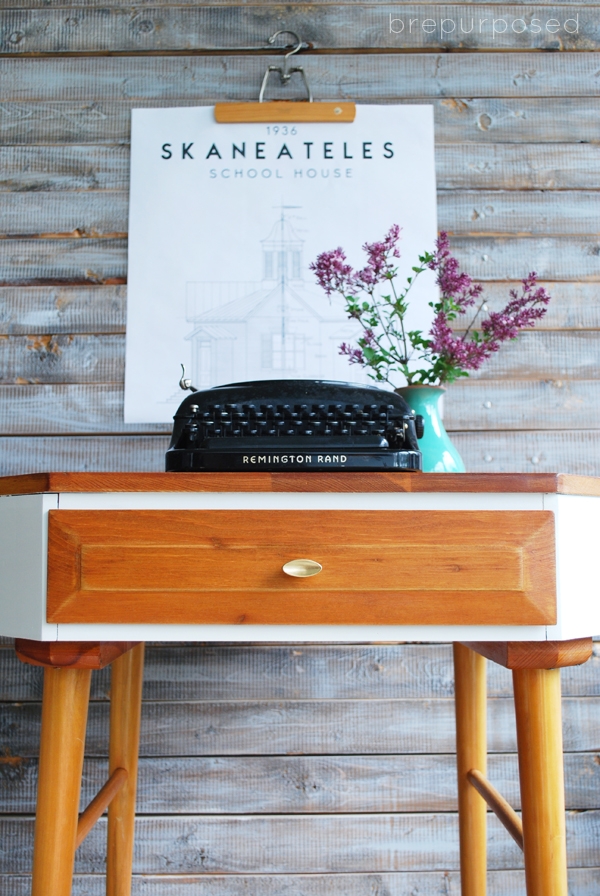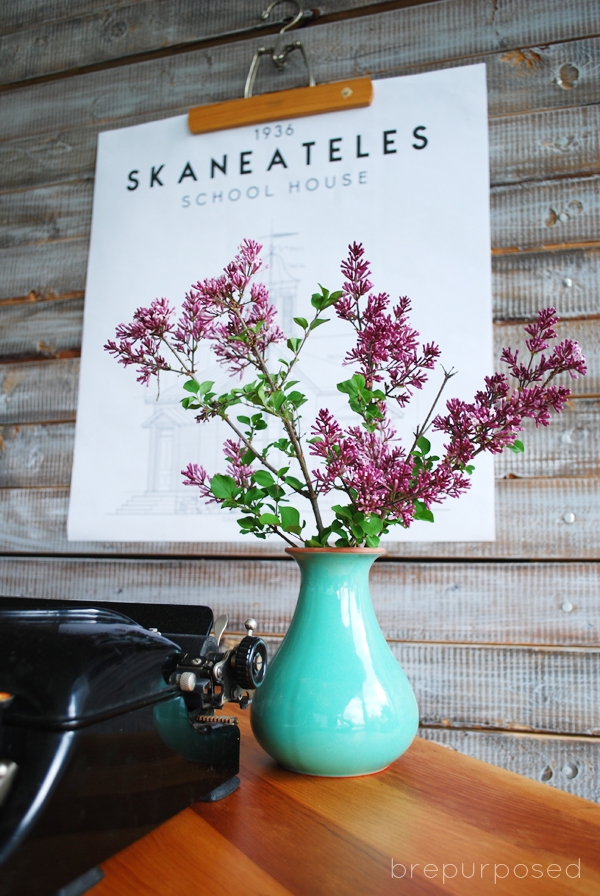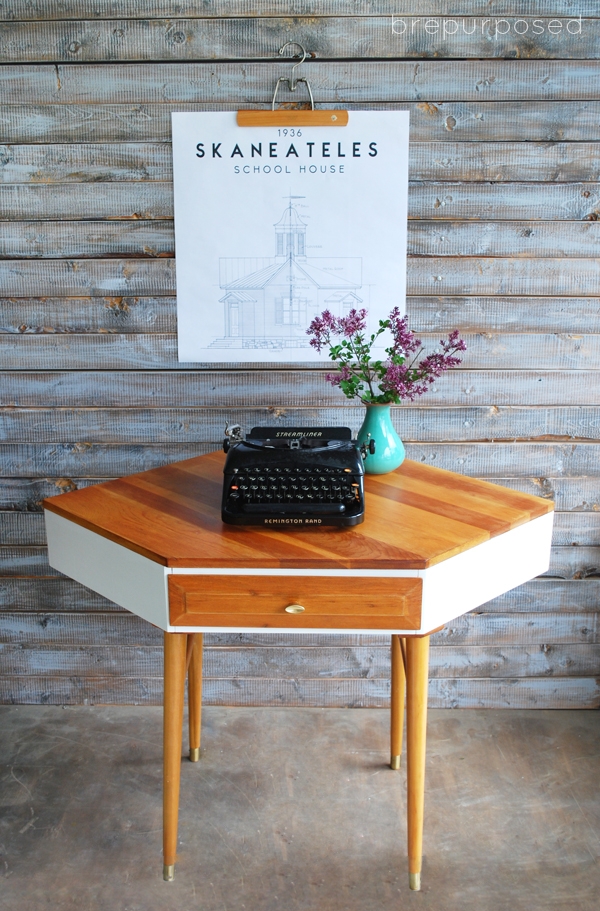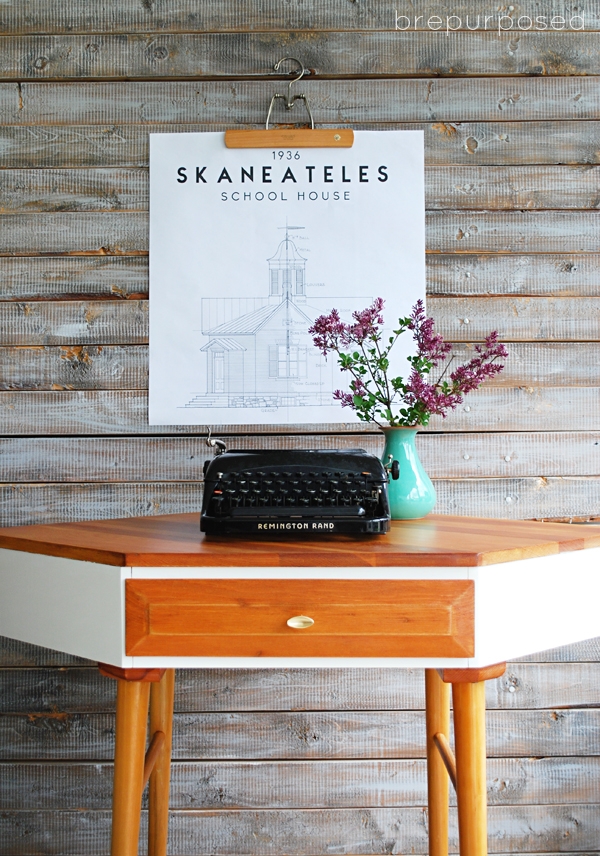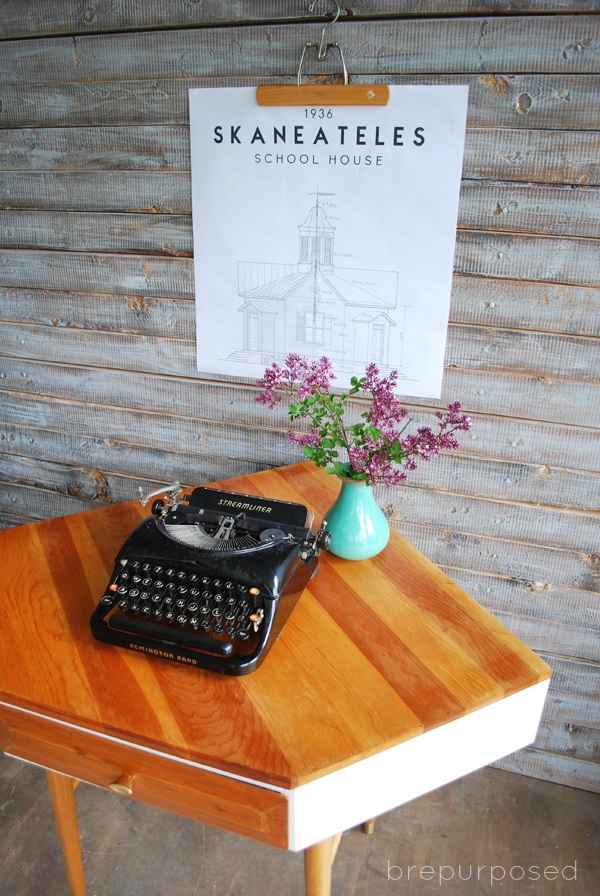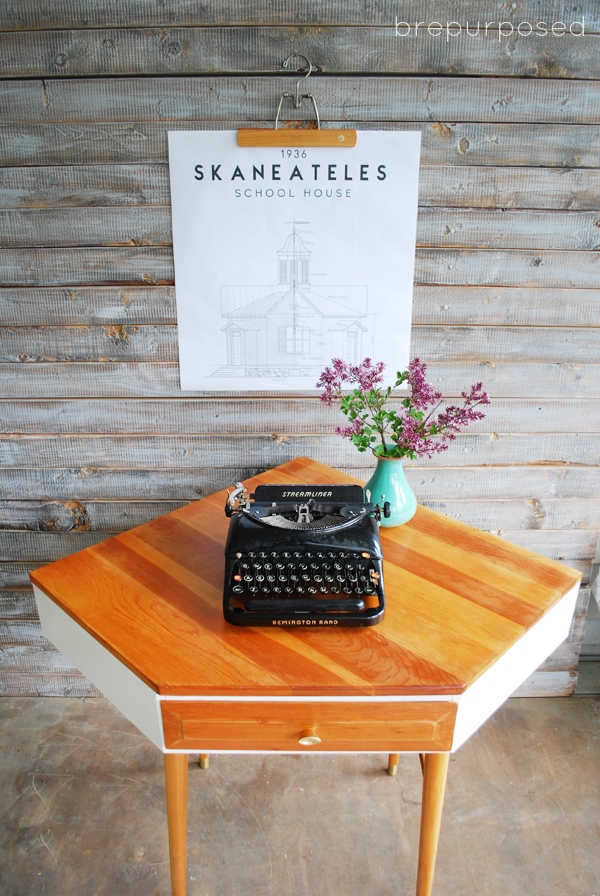 So my Themed Furniture Piece is almost a week late. But better late than never right? 😉
I love how unique this piece is. Have you ever seen anything like it? Would you have done anything differently? I'd love to hear your thoughts!
Have a fabulous day everyone!