TGIF friends! I wasn't sure if I was going to get you guys a freebie this week or not; I was working like crazy to get that Mint Buffet finished. Which by the way, thank you all for the sweet words about it! It's one of my absolute favs and I'm glad you guys share the same feelings <3
I was so focused on that piece that I fell a little behind on preparing for others, so I've got lots to do this weekend! Plus my hubby's baseball team is playing in their Region Tournament so I'll be busy watching them too. If you've been around for a while, you might remember that a year ago today was when I got laid off. I have to say, looking back on this past year, it was the best thing that ever happened to me. It allowed me to grow this little blog and focus on what I really wanted to do. Unfortunately, my unemployment had to end at some point and I'm back at a new full time job. Thankfully, it's a great position that continues to challenge me creatively but of course my dream is to hopefully one day open my own shop. I'll get there one day 🙂
For now…I'll keep dishing out the freebies for ya!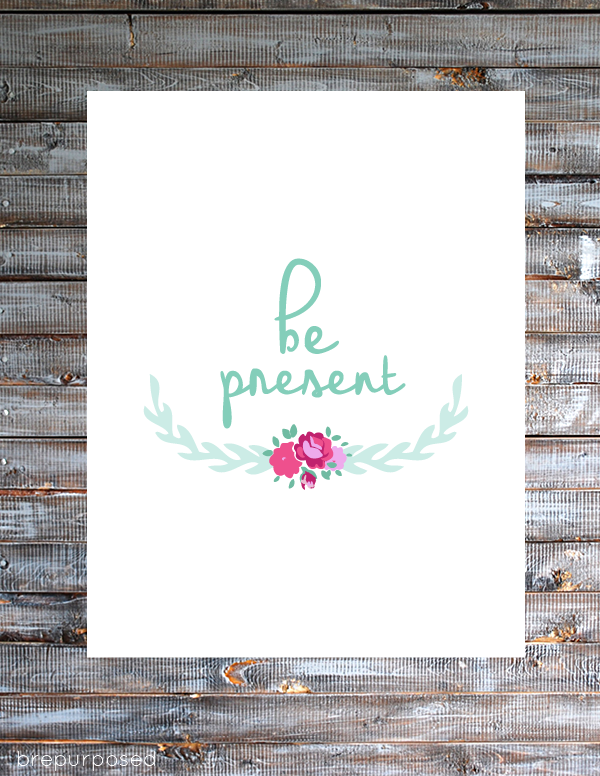 These simple words are such a great daily reminder. We all get consumed with technology, or with worrying about the future and things we can't control. It's important to be present, and be in the moment. You'll never get that time back. Enjoy it.
Print it out HERE!
Oh and be sure to check the giveaway from last week to see if you won!
Have a fabulous weekend everyone.