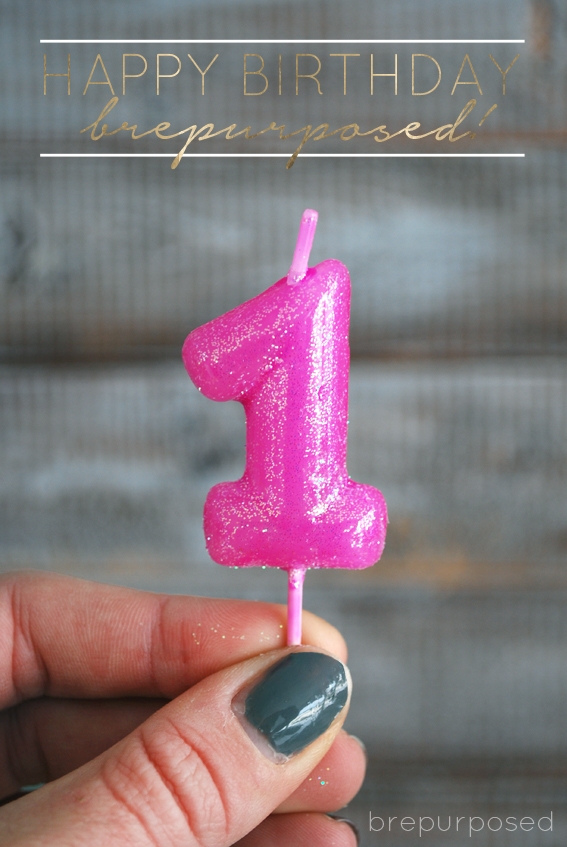 Ok so technically Brepurposed turned 1 on Sunday, um what?! Where did this year go?? But we're celebrating today 🙂 I seriously can't believe it's been a year since I started this little old blog and am in even more awe of how much it's grown. I had no idea what I was getting myself into when I began but am so grateful for all the amazing opportunities and friends I have made along the way.
THANK YOU!!
I honestly wouldn't be where I am today without the support of my readers and I want to give you a big virtual hug for all your support and encouragement. Your continued kind words help keep me going and challenge me to create outside of my comfort zone. You guys are the BEST.
And I want to know what I can do to make things better for you. I've created a little survey that I would absolutely love for you to fill out. It will give me a better idea of what you guys want to see more and less of around here, and what you like and don't like. There is still so much I need to learn about blogging and hopefully through this survey I can learn a little more about you guys.
And speaking of learning more about you guys…I'm stealing this awesome idea that the super hilarious and crazy creative Kyla from House of Hipsters does. It's an awesome way to learn some random things about one another and will hopefully help to grow this space into a closer community of creatives!
So here's how it works: I'll put together a few fun questions, answer them myself and read all your amazing answers in the comments section!
1 :: What do you see out your window right now?
2 :: What's the last thing you do before you go to sleep?
3 :: What's your favorite guilty pleasure TV show?
4 :: What's your favorite room in your house?
5 :: When was the last time you laughed and what did you laugh at?
I see a whole lot of snow and am happy to be on this side of my window 🙂
I kiss my hubby goodnight, tell him I love him and say my prayers.
Pretty Little Liars. Don't judge.
Our living room, especially snuggling on our new couch!
I laughed at myself this morning while I was out on our porch in these absurdly cold temperatures taking pictures for my blog posts this week. Our neighbors have to think I am absolutely bonkers.
Your turn! Can't wait to read all your answers, don't be shy 😉
And again, THANK YOU for being so AWESOME!