I was given free product in exchange for a review for this post. You can read my full disclosure policy here.
To say that the lighting in our bedroom was dismal is a huge understatement. But being that we rent, we didn't really see much reason to change it out. Until Kenroy Home contacted me asking if I would like to review one of their products. Um yes please! I found this gorgeous chandelier on their site and knew it would be the perfect update for our space.
You can read more about The Antoinette Chandelier here.
Now let's start with the Pros about this beauty.
:: The chandelier arrived two days after I ordered it. Speedy delivery!
:: It was relatively simple to put together. All you need to do is attach the hanging gems and screw in some of the arched pieces.
:: Electrically, it was quite easy as well. I have to give mad props to the hubby here because I think he even surprised himself when we tried to turn it on and it actually worked. And just to let you know he's never replaced any light like this before. #proudwifey I had a total Clark Griswold moment when I flipped the switch and the chandelier was shining bright in all it's glory. Note: When you're working with the electrical, be sure to turn off the power on your fuse box, until you're ready to turn the light on.
:: It comes with extra hanging gems, in case you lose some along the way.
:: You get a good arm workout holding it up while your hubby attaches all the wires.
:: IT'S PRETTY! I mean obviously, I wouldn't have picked it if it wasn't, but it looks even better when it's hanging up then it does online.
Ok, now just a couple Cons.
:: It doesn't come with light bulbs. Womp womp. And of course you need 5 and the ones at the hardware store came in packs of 4. But now we have extras when they burn out 🙂
:: The chain it comes with is CRAZY long. Like 6 feet. And as you can see we only used about 4 links. It was really hard for us to get the chain apart (and when I say us I mean the hubs) but the directions come with a little tip using some plyers and a screwdriver which helped.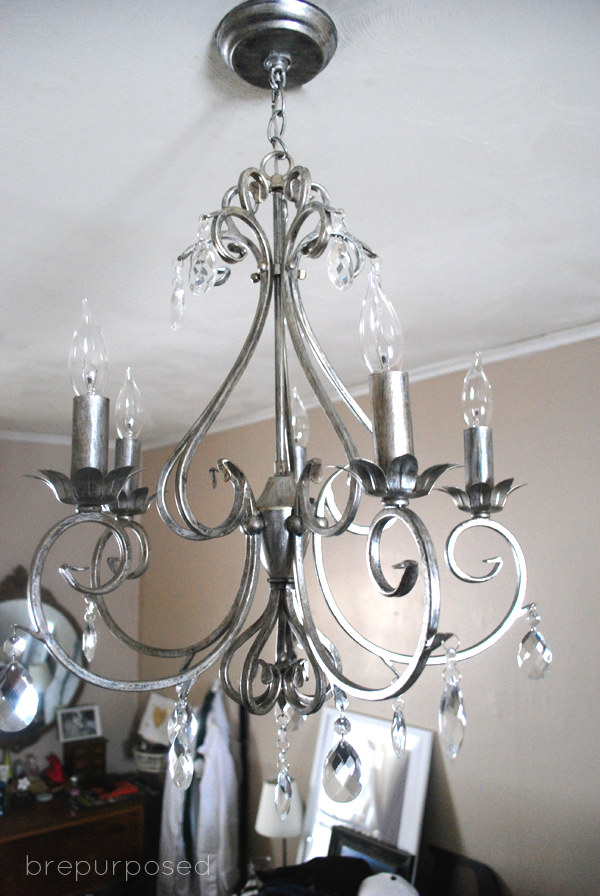 Not only does it look beautiful in our room, but it shines BRIGHT. Or maybe we just think that because our old light was so awful. But either way, we love it and are super happy with it!
Have you had success or failure in installing your own lights?
Have a fabulous day everyone!