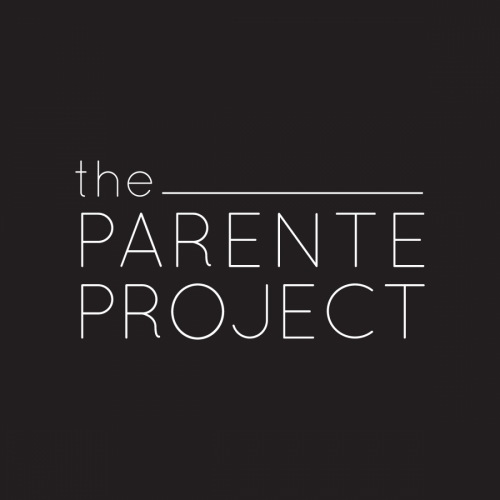 So remember when I said I had something pretty exciting going on last weekend? Well I can finally tell you! I'd like to introduce you to "The Parente Project" as I've dubbed it 🙂
Here's the low down. A few weeks ago I got an email from a friend of a friend, who is a follower of my blog, and much to my surprise, they wanted to hire little old me as an interior designer! I was seriously shocked, nervous, scared and excited all at once. No I have no official training or experience in this department, but her confidence in me made all those worries disappear.
J and D live in Pittsburgh (which is about 2 hours from me) and just bought their first home together as a married couple. It's a traditional 2 bedroom brick row house in the city of Lawrenceville. Built in 1900 it's full of charm with it's exposed brick kitchen, stained glass and original mantel.
I went to meet with J last weekend to look at the house and get a feel for their tastes. And of course take some pictures to share with you! So without further ado, come on in and take a look!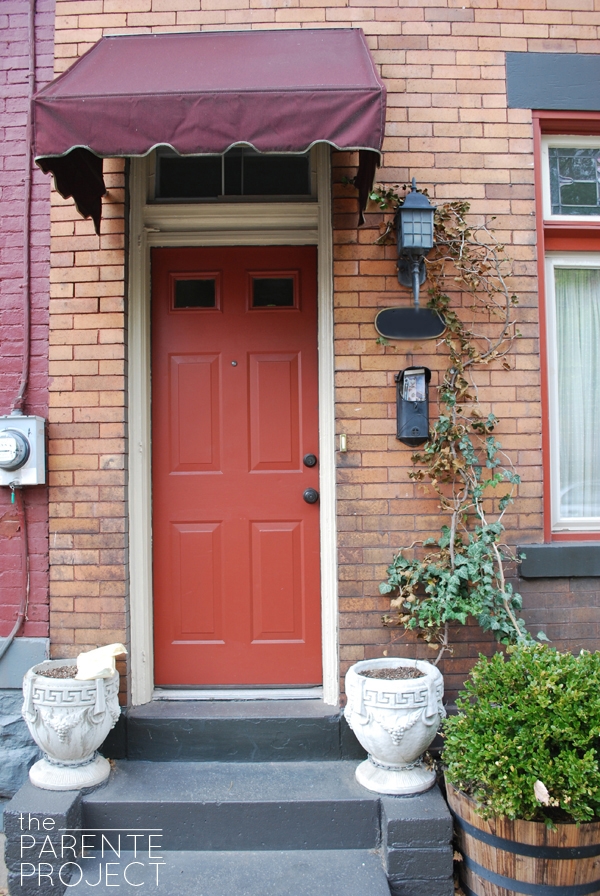 J already has this beautiful, rich teal color picked out for the door and the window trim which is going to be so welcoming.
When you walk in, you come right into the living room. The green will be replaced with something much warmer.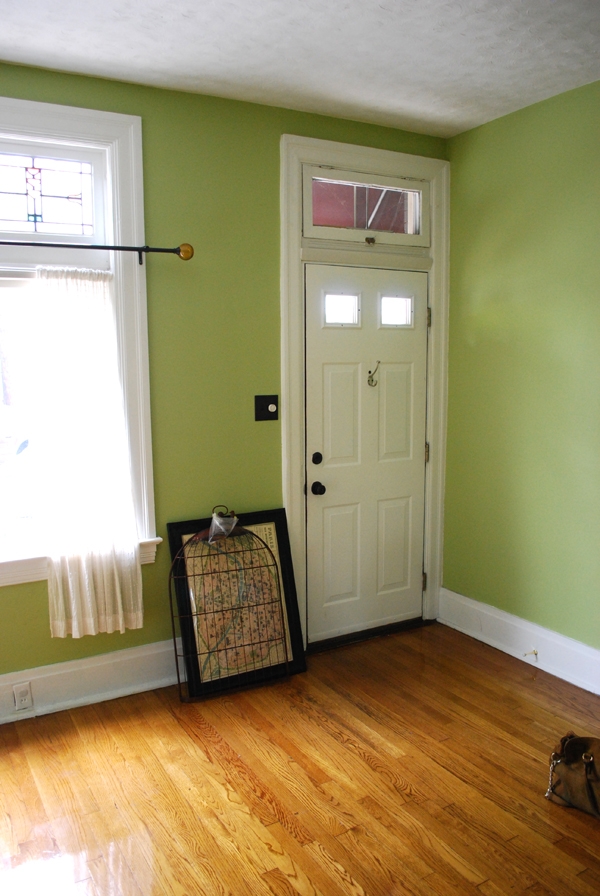 Here's a full image of the space. Total mantel envy going on over here. The previous owner left their tv mount but, we don't want that to be the focal point of the room, so we're planning on putting the tv elsewhere. The yellow chairs are from Target and will be staying!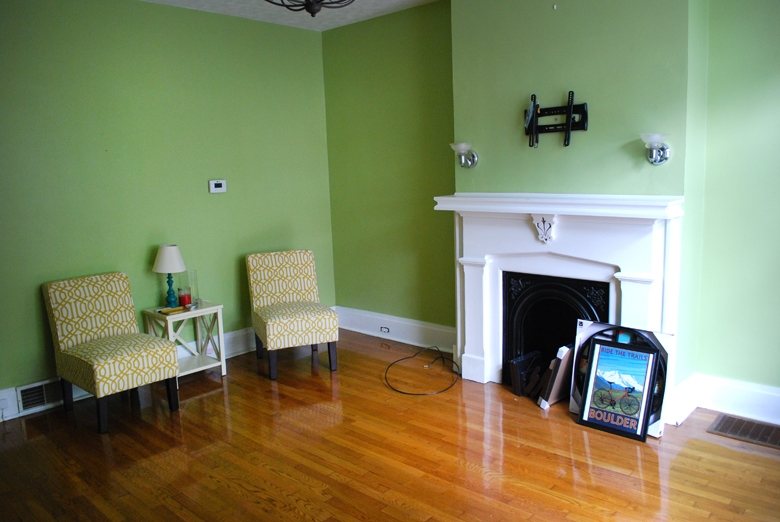 And this is the opposing wall. I'm thinking of doing a big travel themed gallery wall. This girl has been all over the place and has collected so many cool things from her travels that need to be displayed.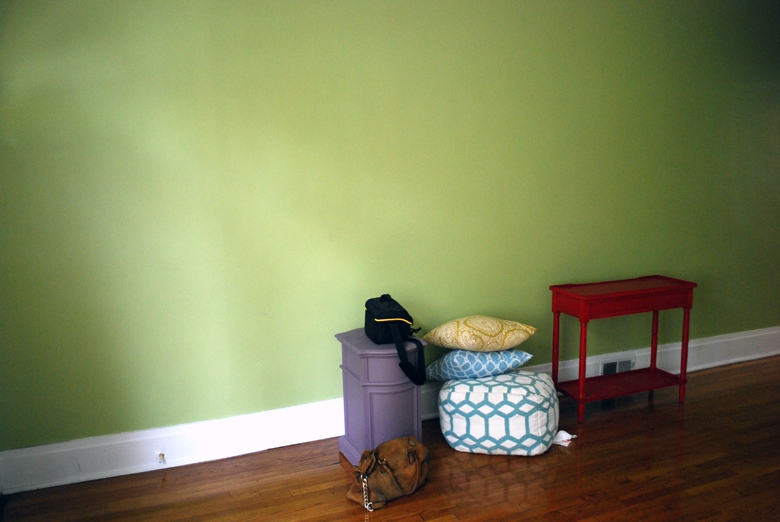 So much natural light comes in through that window, I love it. And how beautiful is that stained glass? I know it's kinda hard to see, I clearly didn't get a great picture, but trust me it's gorgeous!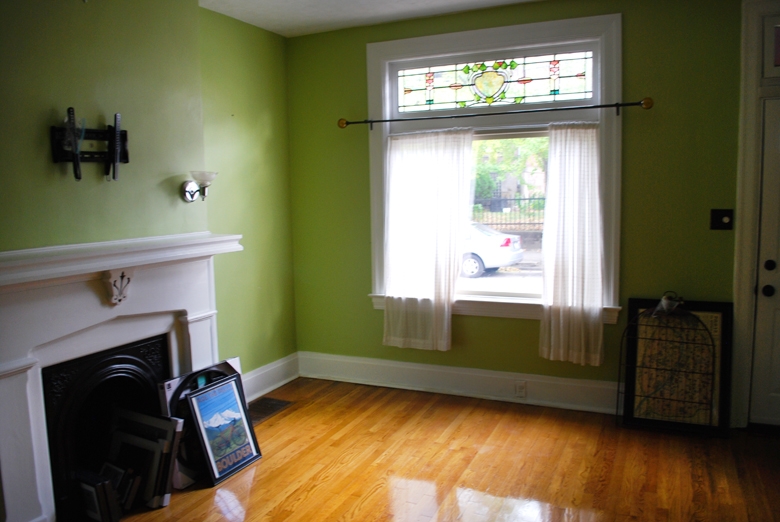 This piece was left by the previous owners and will be replaced with a new light.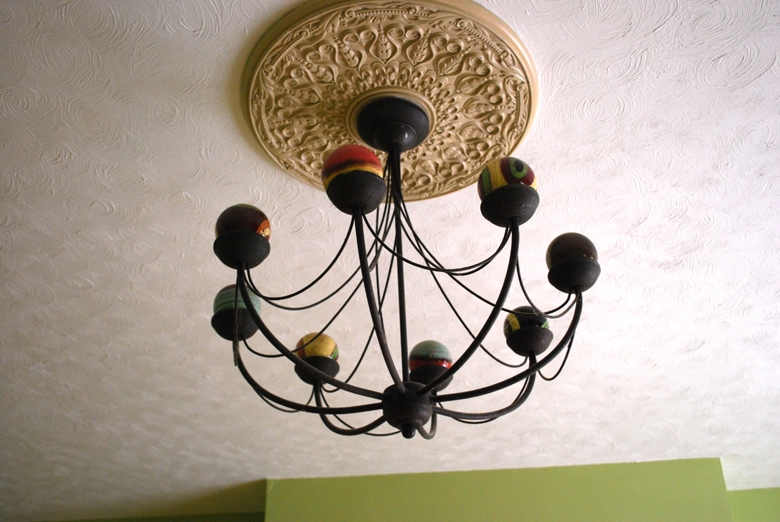 The living room leads right into the kitchen…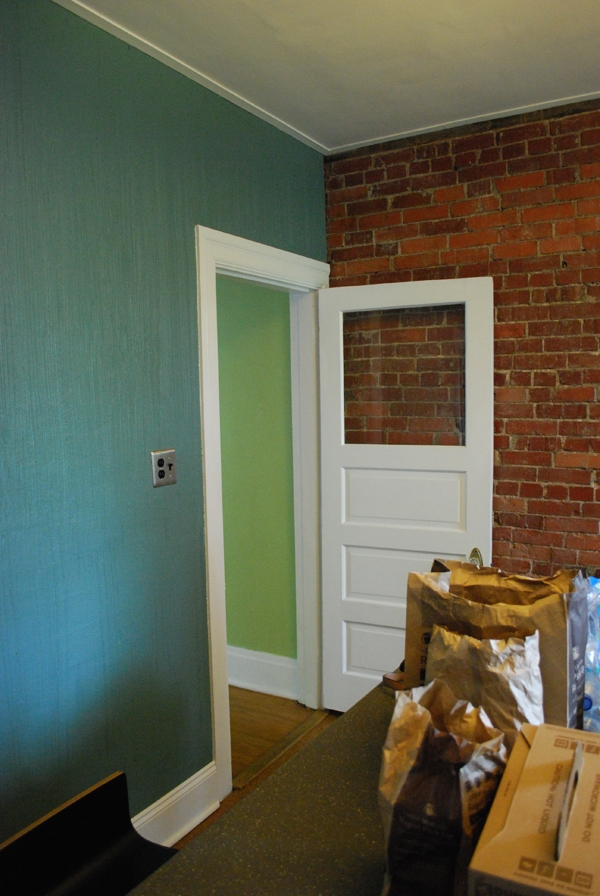 Disregard our mess of magazines and Panera 😉 I LOVE the brick.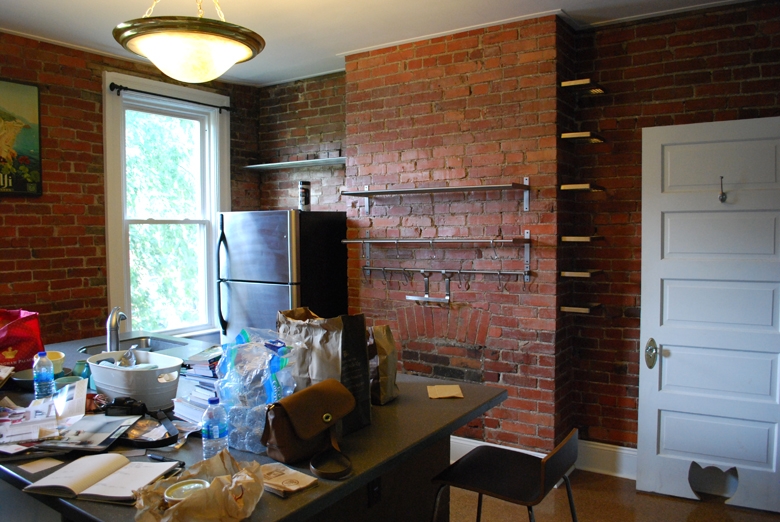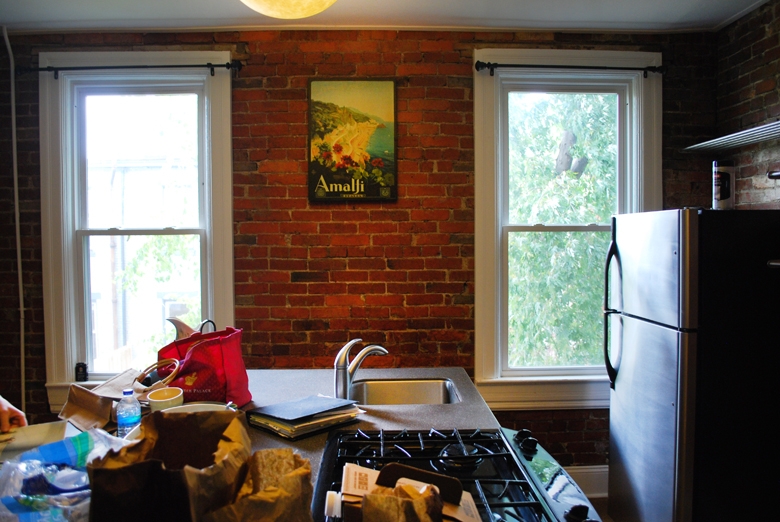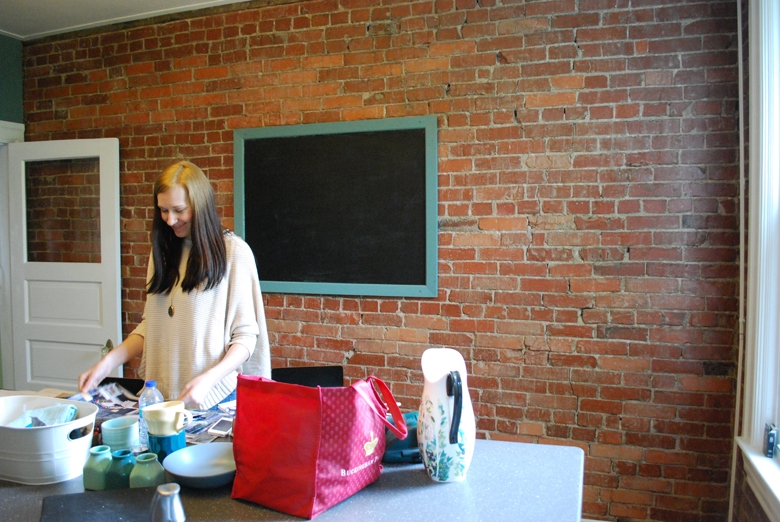 The island is a little excessive. They may want to remove it in the future but it's gonna stay for the time being. There's some storage on both sides, as well as a dish washer.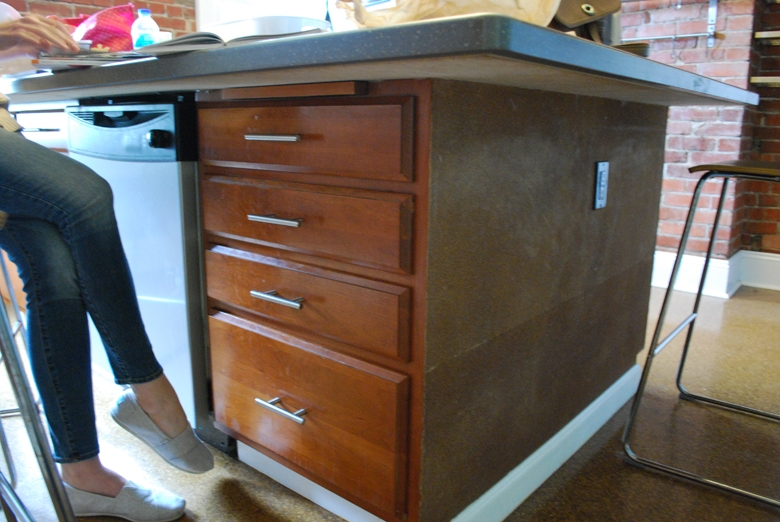 The only wall that isn't brick is painted a greenish blue color which matches the palette we're working with in the kitchen so it will probably stay as is with some added shelves for some more storage.
The door leads to the basement which I didn't photograph because we aren't focusing on that space right now. But it's in great shape and leads out to a little back patio 🙂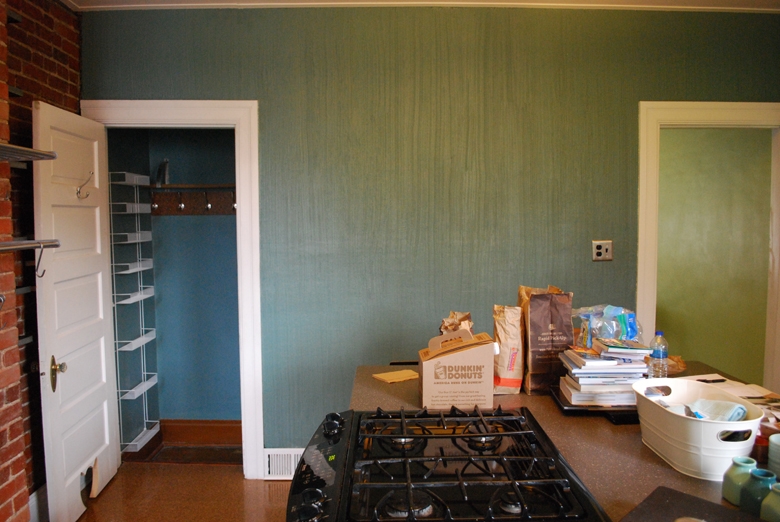 The previous owners were also big cat people and decided it was a cool idea to cut a cat head out of the door for their little furry friend…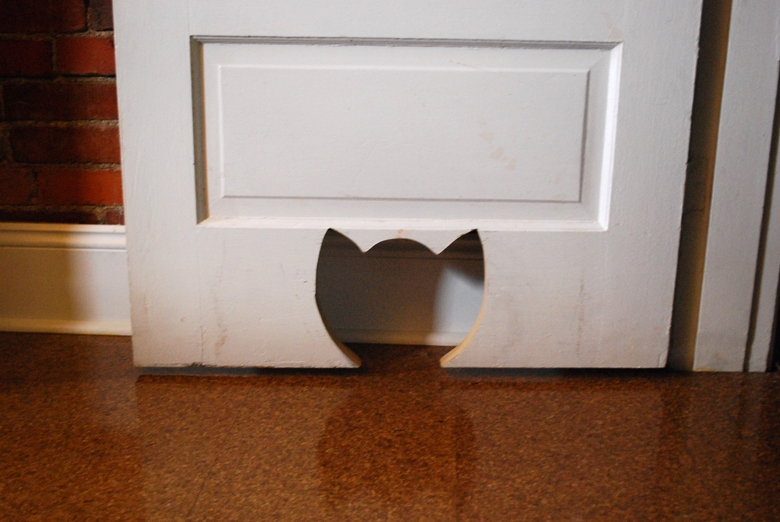 Between the living room and kitchen are the stairs up to the bedrooms and bathroom. The master is at the top of the stairs and to the left.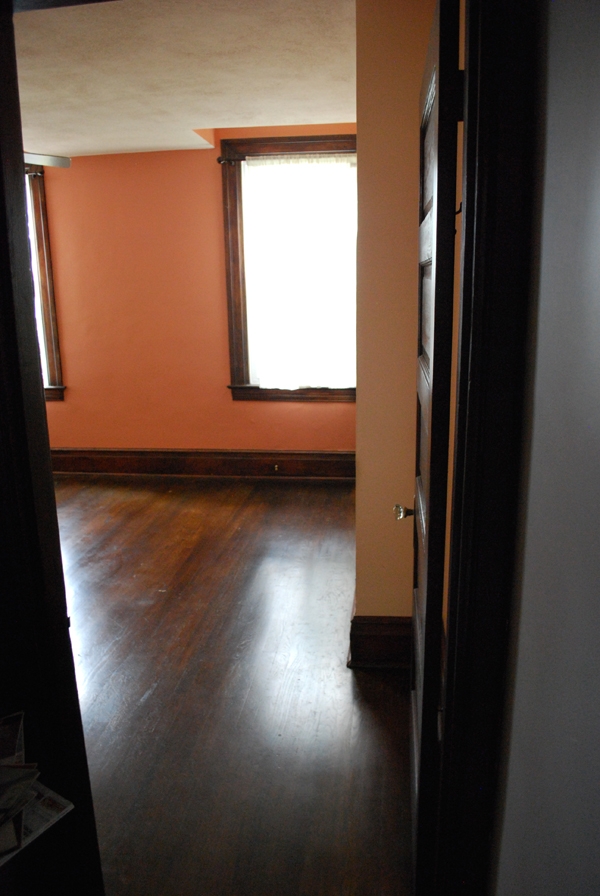 One wall is painted a salmony color, which is a very interesting pick for a master bedroom, if you ask me. We'll be repainting the whole room 🙂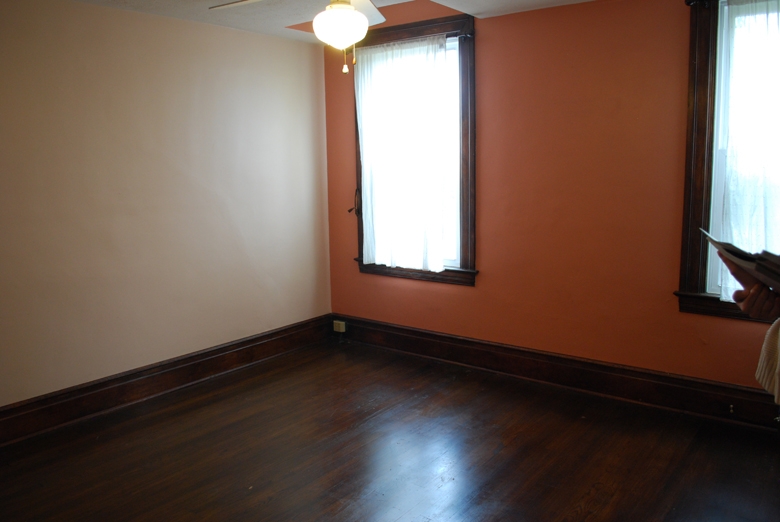 The really devastating thing about this room is the closet…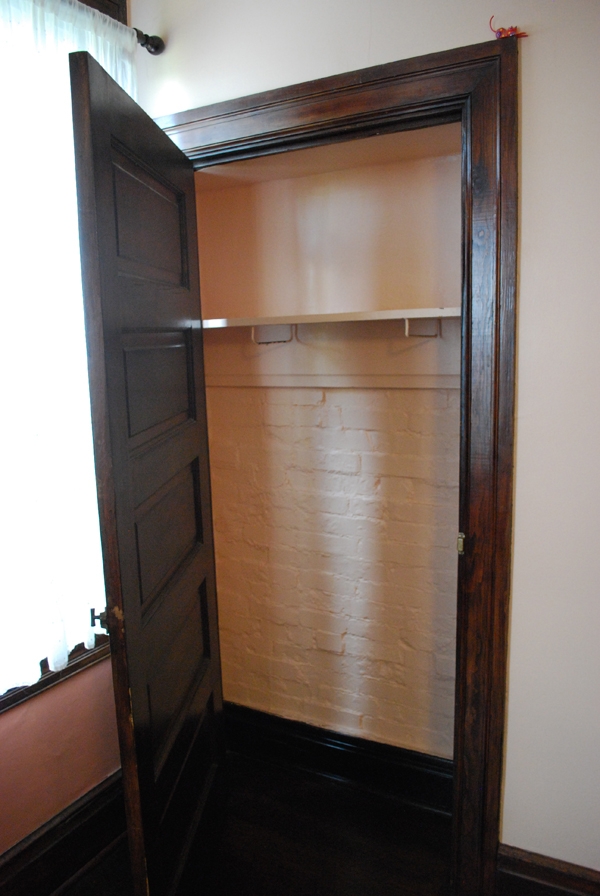 It's MAYBE 8 inches deep. So terrible. It will probably be used as J's shoe closet and we're going to look into some wardrobe options for them. I love the dark wood in this room! We'll replace the ceiling fan too. I would love to put a chandelier up there 🙂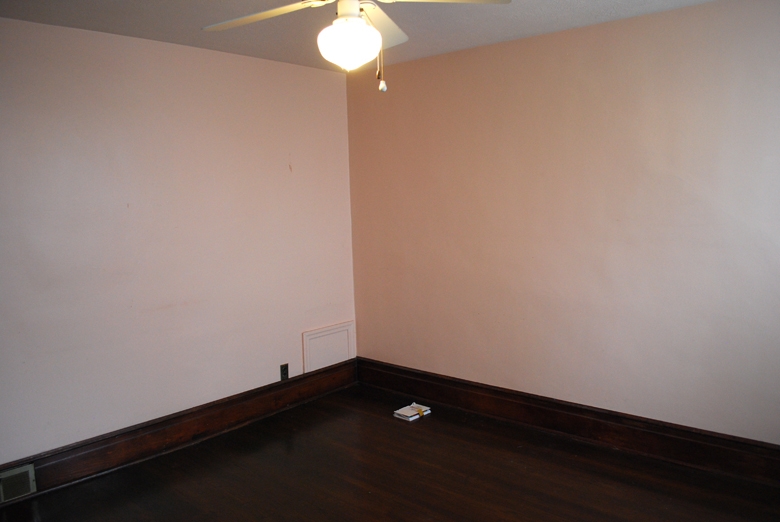 Across the way is a spare bedroom that we aren't focusing too much on right now either. In their previous rental, the set up was similar and they used that space as their closet. In this house it will probably be a nursery at some point, but more for storage right now.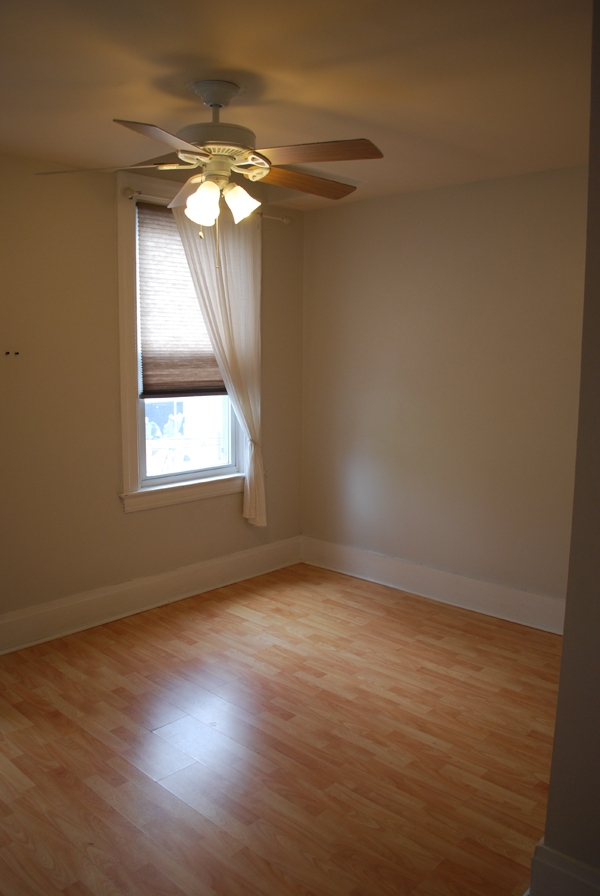 In between the rooms is the washroom. Don't be fooled by that stained glass. It's a sticker. Looks pretty real though right?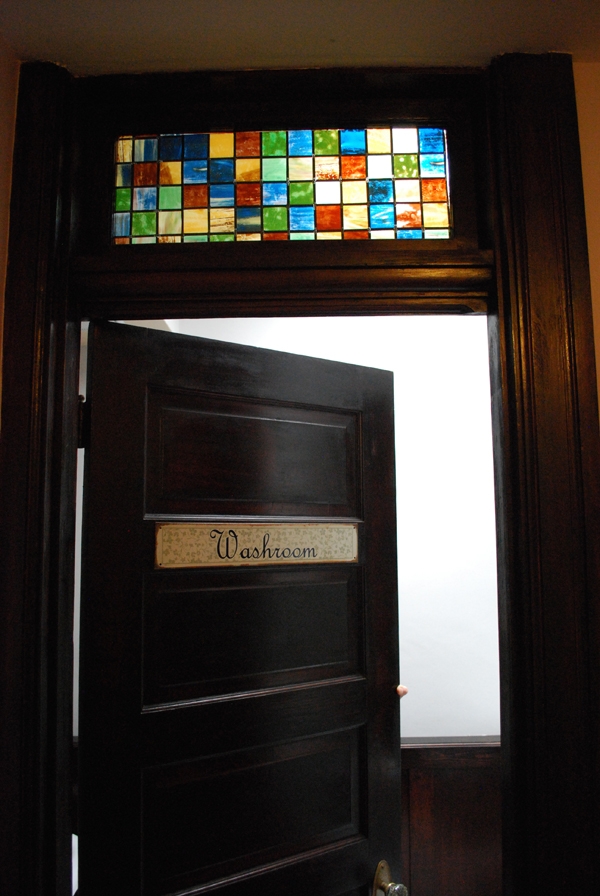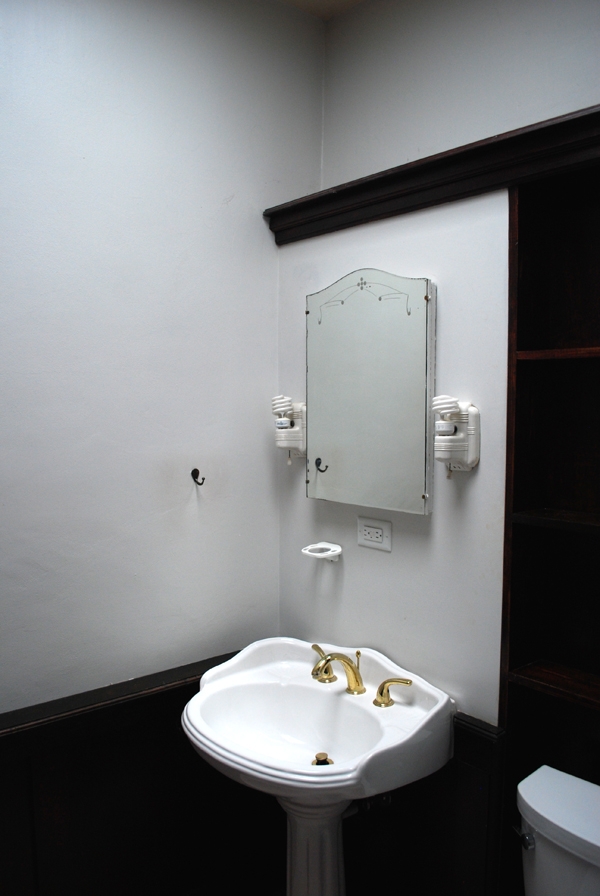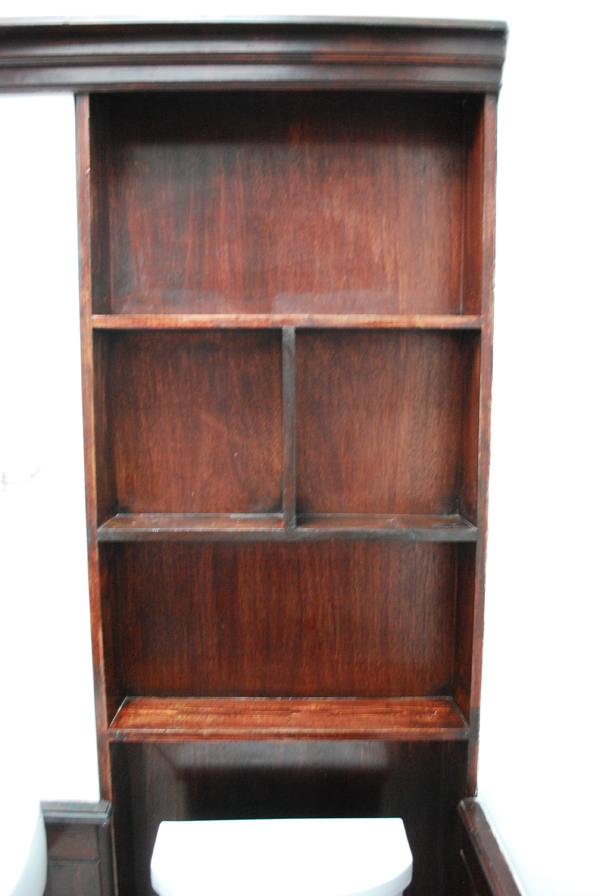 How amazing is this claw foot tub?? Maybe not the most practical, but you can't argue it's charm. So cute.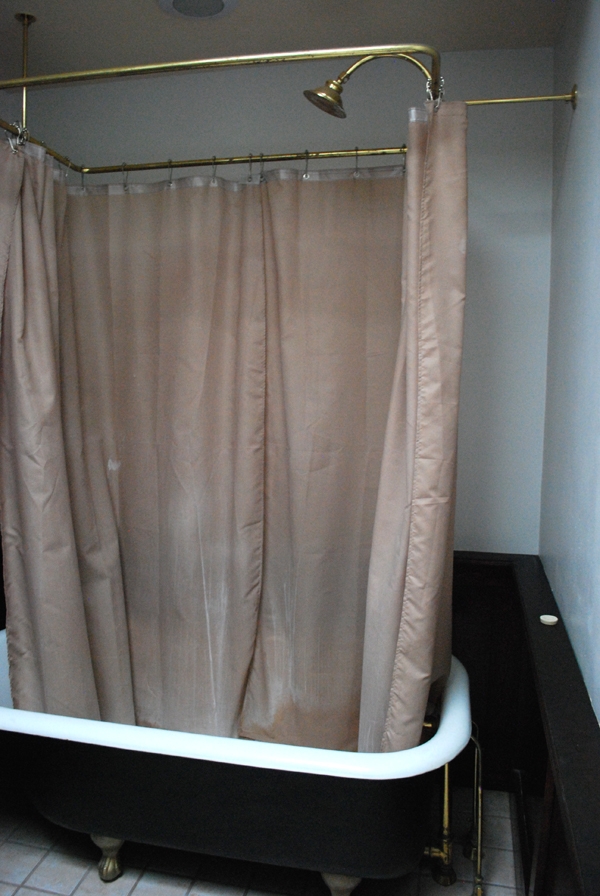 To start with, we're just focusing on the living room, kitchen and master bedroom. They really lucked out with this house and got it before it was even listed. All the previous owners have kept it in great shape which means there aren't too many fixes that need to be addressed, and we can just focus on the cosmetic stuff.
So up next is making some style boards for each of our focus rooms. We're going for a vintage chic look with some industrial and modern inspiration as well.
They're both super hard workers and want their living room to be a cozy and welcoming sanctuary for them to relax in at the end of the day. Furniture wise, they already have those 2 yellow chairs and a dark gray sectional that wasn't moved in yet.
She's got some beautiful ceramic mugs in different hues of blues and greens that we're working off of for the kitchen, as well as pulling in some light yellow and reds.
The master is the space that is pretty much a blank slate. They have a bed but that's about it, so I'm looking forward to being creative with this space!
I'm so grateful that J reached out to me and has given me this opportunity to make their new house into a home. It's definitely going to be a challenge and a new experience for me, but I can't wait. I'm living vicariously through them since the hubs and I aren't anywhere near buying a house yet.
I'll be sure to share all our progress with you and hope you're excited about this as I am!
Have a great day friends 🙂