Oh hey friends! I'm so excited to be a part of this little tour through blogland and show you what goes on behind the scenes at Brepurposed. Katie from View From the Fridge invited me along and I'll pass it on to a couple more bloggers at the end of my post. It's a great way for you guys to get to know me and other bloggers better and take a glimpse into one anothers lives. So come on in and stay a while!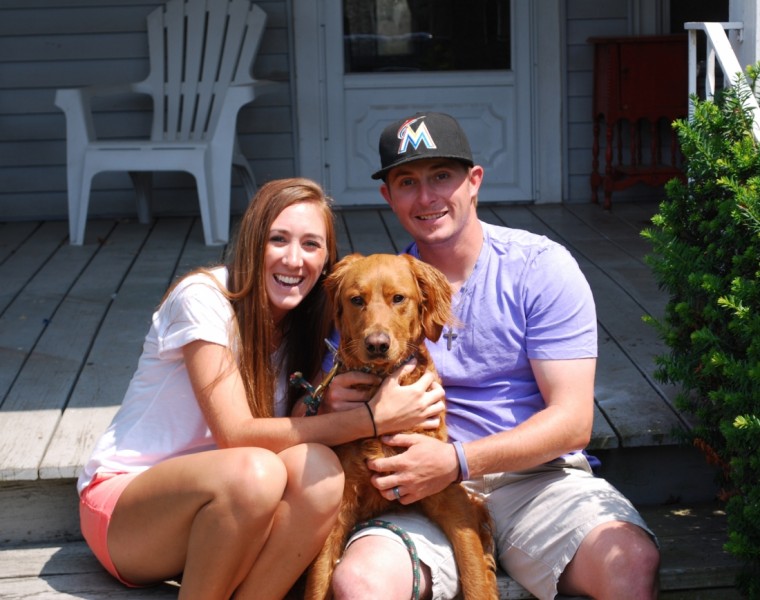 I'll be honest, I was hesitant at first when Katie asked me to do this. I was nervous about showing pictures of our apartment because let me tell you, it is nothing glamorous. The hubbers and I rent a small two bedroom apartment that we didn't plan on being in for too long. It's our first place together and most of the stuff we brought into it was either from college, our parents or random purchases. Cheap & free = good. Old & mismatched = not so good.
At the end of the day, this is our home and I'm sharing it with the person I love. I'm sure everyone can relate and has worse stories than we do about their first place as a married couple. As much as I can't wait to own a home I'm grateful we have a roof over our heads and a big porch to work on 😉
Speaking of porches…this is where the magic happens!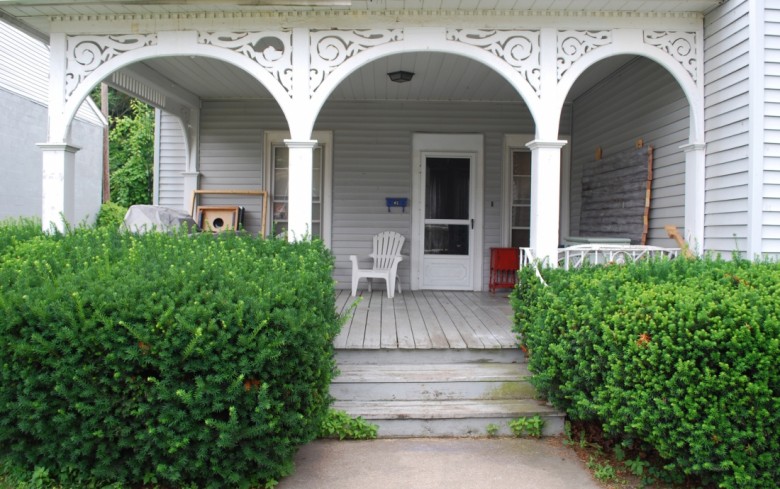 Except in the winter. Then the magic happens on the kitchen floor. Here's our little entryway.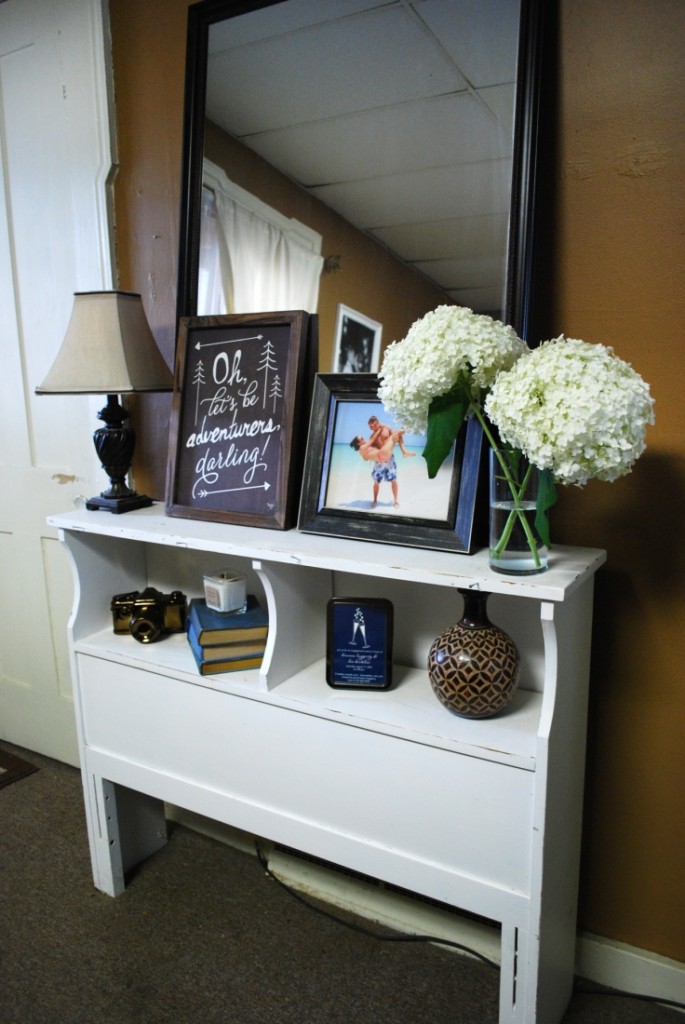 Now onto the beautiful poo colored walls.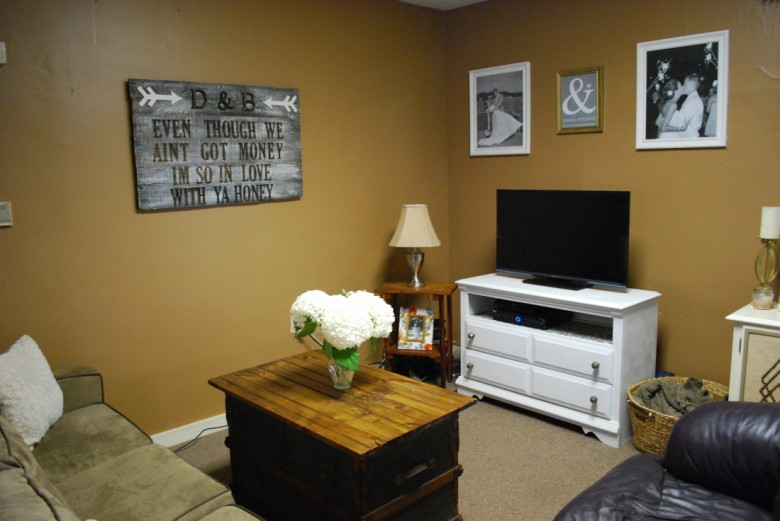 And don't forget the gorgeous checkered wall paper in the kitchen 🙂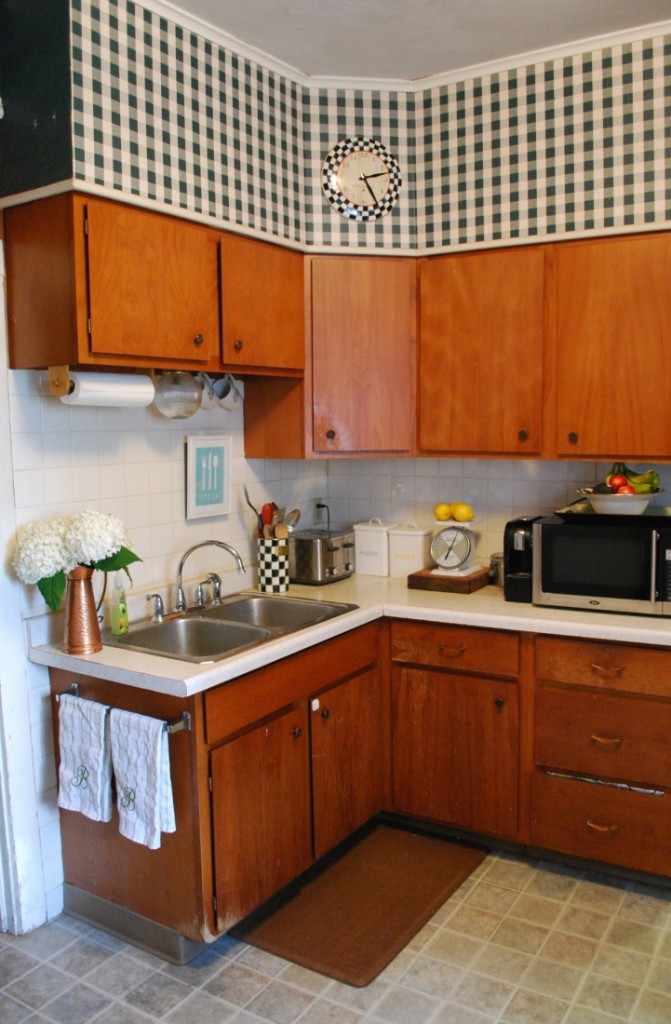 That's all you get 😉 A little peek inside our apartment. Taking pictures inside is hard without a lot of natural light as I'm sure most of you know!
Ok now onto the questions!
:: QUESTION 1 ::
What am I working on?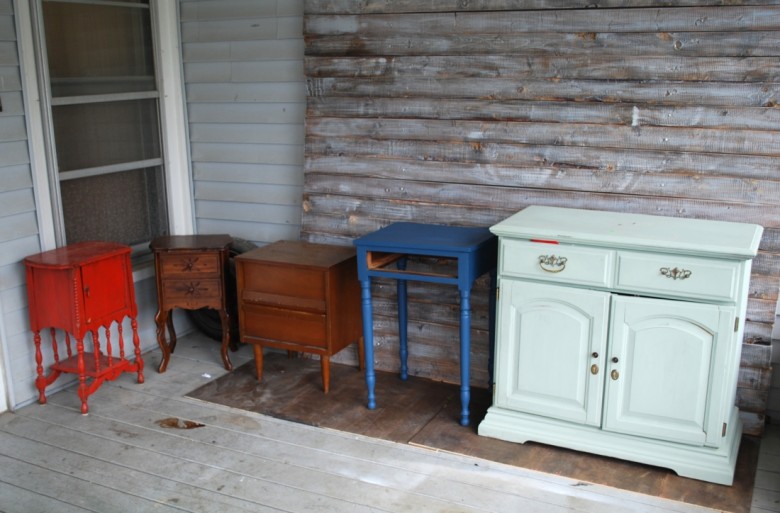 These are all the current pieces I have in the works. From left to right:
Red Antique Humidor :: I got this a while ago but am struggling with what to do to it. I could keep it red and clean it up and redo the inside or repaint it. Or stain it? Gah, so many options! What do you think?
Small End Table :: I got this piece pretty recently and will probably just paint it and add some new hardware 🙂
Mini Mid Century Modern Table :: I love this little guy and have some two tone ideas for it.
High Blue Table :: I painted this using a homemade chalk paint and am working on a fun treatment for the drawer. Come back on Wednesday to see the finished result!
Buffet :: I'm redoing this piece for my friend as a wedding present. She's getting married in August so I should probably get started soon huh? She wants it to be pretty neutral so I think I'll be staining the top and painting the bottom a white or cream.
And lastly, I'm super excited to be a Darby Designer. If you haven't heard of Darby Smart you need to check them out. They are a DIY crafting startup, where designers launch simple projects based on the latest fashion and home trends. Those projects then get turned into kits that you can purchase and create the same look!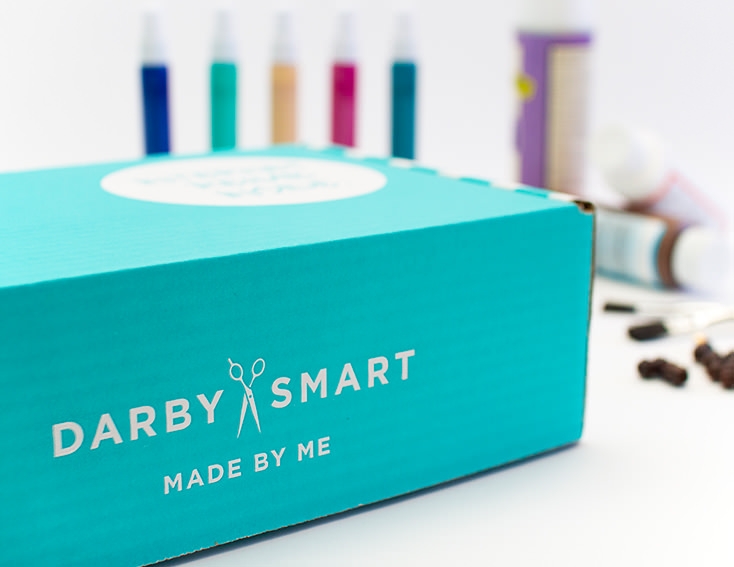 I applied to be a designer and got accepted! Woop woop! What happens then is that they give you a $50 credit to purchase any of the supplies on their website that you want. Free = fabulous. I just got mine in the mail last week and can't wait to start on it! I'm making a printable, so keep your eye out for it 🙂
:: QUESTION 2 ::
How does my work differ from those in my genre?
Being in the furniture painting/repurposing genre can be a bit intimidating. There are SO many amazing and talented people out there that it's hard to stand out. In the beginning I started out with pretty basic stuff. Simply painting something white and not really having any idea what I was doing.
Once I really got into the blogging scene I started to get inspired and am starting to find my style. I try and make my pieces stand out by adding that little something extra that someone else wouldn't have thought of. Whether it's my choice of hardware, adding fabric or trying out a new paint technique. I have been blown away by all the support I've gotten from my friends, family and followers that it inspires me to keep creating and challenging myself to "paint outside of the box".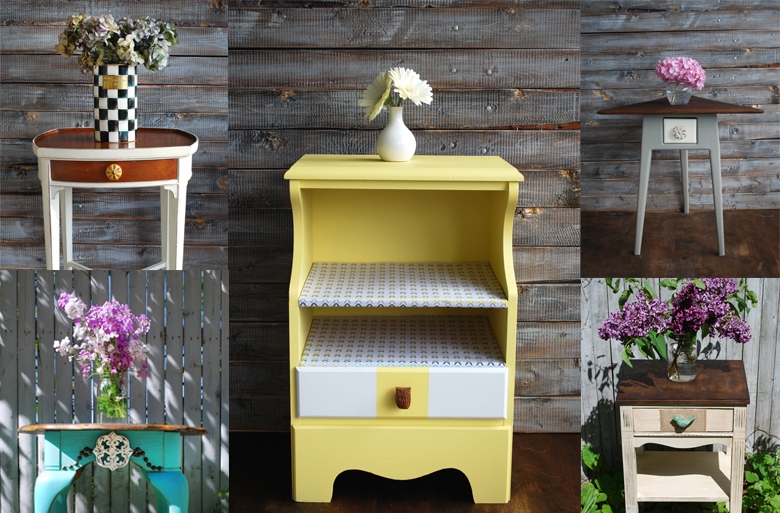 :: QUESTION 3 ::
Why do I write/create what I do?
I've always been a creative person and I can thank my parents for that. My Mom amazes me with her ability to quilt, sew, scrapbook, paint…the list goes on. My Dad is the handiest man I know and my love for wood work and DIY definitely comes from him. For our wedding last summer, I made pretty much everything and I didn't realize how much I enjoyed it until after it was all over and I had nothing left to craft!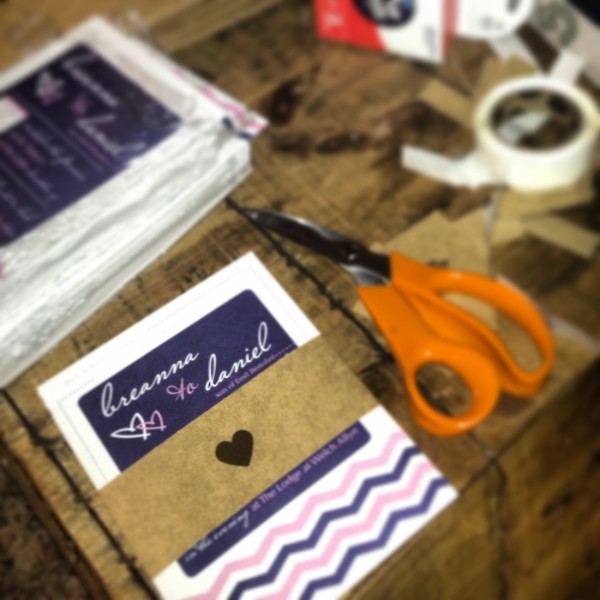 That's when I first started dabbling in 'brepurposing' and I fell in love. I love graphic design too, which was my day job, but the type of work I was doing wasn't exciting me. This was the perfect outlet to be creative on both platforms and the perfect hobby that hopefully some day I can call my job 🙂
:: QUESTION 4 ::
How does your writing/creative process work?
What creative process? Seriously, I wish I could tell you I'm super organized and write everything down when I have an idea and have posts scheduled weeks in advance. Not the case. At all. Here's a little run down of how things do actually work for me:
I go thrifting and/or stalk craigslist and stuff my car full of goodies and unload them all onto our porch (the hubs loves this part). If I'm lucky, an idea will come to me when I first see a piece, but usually they hang out for a while before I decide what I want to do. My ideas tend to come to me after browsing Pinterest or other blogs or simply when I'm just going about my day and have an "ah ha" moment. I've been grateful that I haven't hit too much of block yet. I still consider myself to be quite new at this and thankfully there are so many different paints and techniques that I still want to try.
Photographing my pieces has become one of my favorite parts of the process. I love styling and staging my furniture, especially with my new backdrop. I seriously get so excited when I upload my photos and see the end result! My only problem is that I take WAY too many photos and it gets a tad overwhelming to only pick 3-4. Oh well 🙂
I really should work on writing my posts in advance but even if I have a schedule in my head of what I'm going to post each day, I seem to never write that post until the night before. Procrastination at it's finest right here. I'm starting to at least make a little archive of printables, so I have those for my Friday's Fab Freebie.
---
I hope you enjoyed that little peek inside Brepurposed and had fun getting to know me a little better! This blogging journey has opened so many doors for me and challenged me above and beyond what I thought I was capable of. I have to give a big shout out to my hubbers for supporting me in all of this and putting up with our crowded porch and craft covered kitchen table. He helps in more ways than one and some of my projects wouldn't have been possible without him. He keeps me grounded and reminds me every day not to take things too seriously and I love him for that.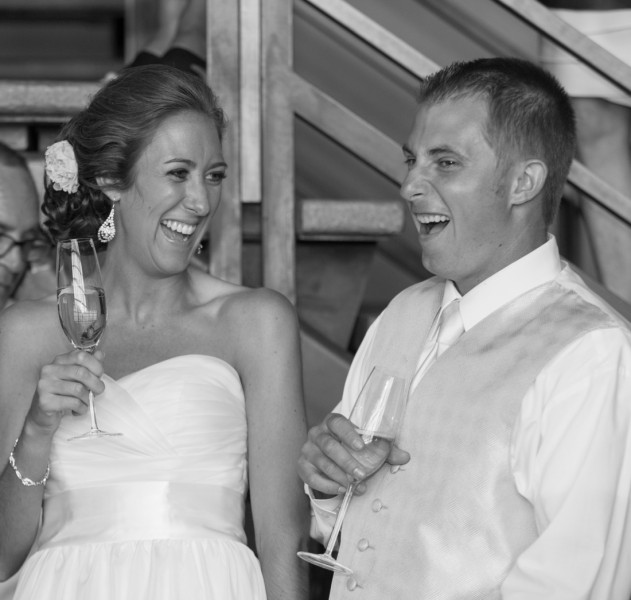 And then there's Oakley: or as we like to call him him, stinky boy. He supports me by photobombing all my photo shoots 🙂 And stealing pieces of sand paper, or nails or wood. He's just lucky he's so handsome and puts up with my force snuggles.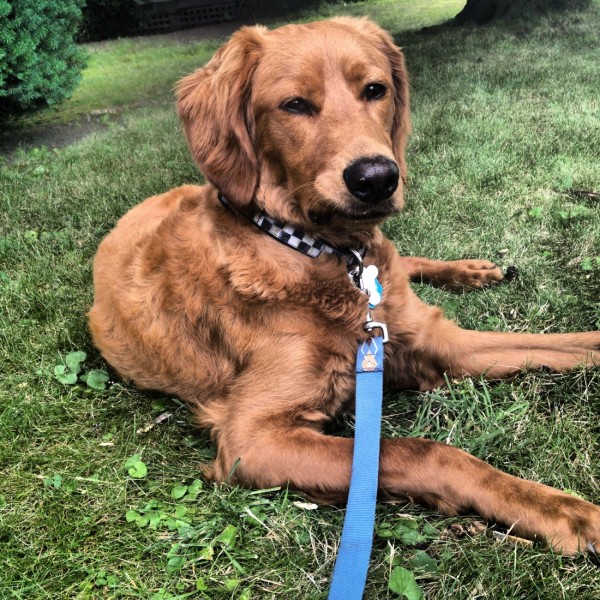 ---
And now it's time to pass this along to two other bloggers. I thought it would be fun to introduce you to some other Bre's out there. They are both fabulous and I'm just thankful that they didn't think of my blog name first 😉
Bree from bumblebreeblog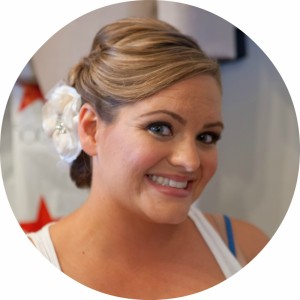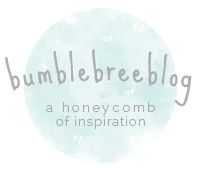 Bre from Average But Inspired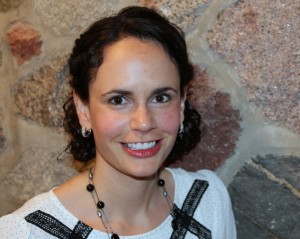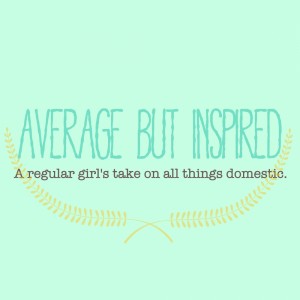 Make sure you check out these fabulous ladies and come back next Monday for their Tour through Blogland!