I got this piece a few weeks ago at a garage sale around the corner from our apartment. I went in the afternoon and couldn't believe it was still there. I knew exactly what I wanted to do with it. So let's talk about how I transformed this $8 Night Stand Table!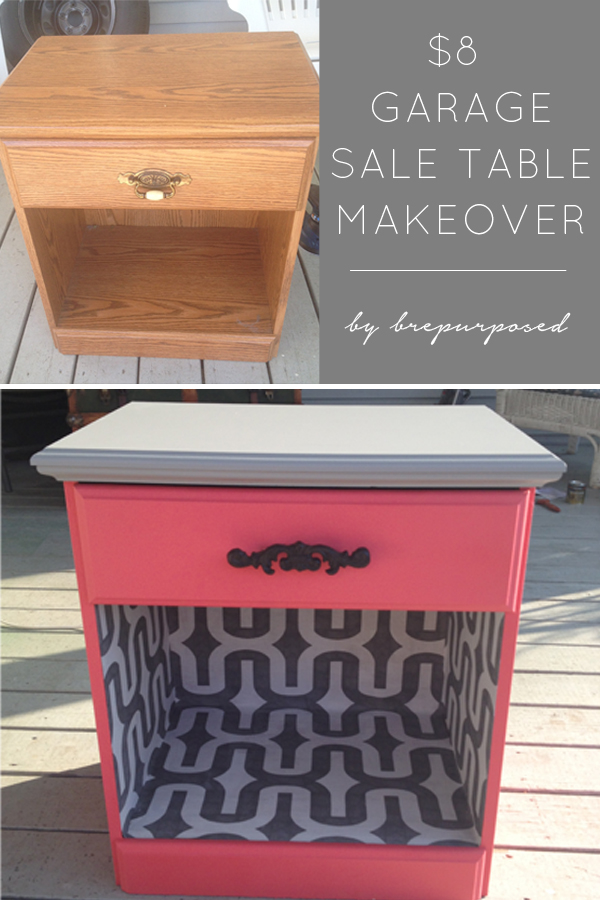 I've seen a few posts on Pinterest with tables like this where you wallpaper the inside. That was my original plan; however, when I started looking for wallpaper I realized how expensive it was and how hard it was to come by these days in a pattern that is modern. I did some research and found a much cheaper and probably easier alternative. Fabric and mod podge. This combo works wonders and I will definitely be using it in the future. It took me a while to pick my colors. I had grey in mind and originally was thinking a mint color for the paint. After some googling, some pretty coral pieces caught my eye and I was hooked.
Being new to all of this wood working stuff, I asked my brother what kind of prepping this piece needed before I started to paint. He said just some light sanding and I should be good to go. I figured this was the time to buy my first power tool 🙂 I went to Home Depot and got myself a hand sander. I was pretty excited about this sucker and couldn't wait to use it.
Power tools are awesome. After sanding all the large surfaces and wiping it clean, I was ready to paint. I had to do about 3 coats for the piece to be evenly covered. The color is called Pink Salmon by Glidden.
 I bought some new hardware at Hobby Lobby which turned out to be quite the process to screw in. With some help from the hubs and a friend of ours, they helped me tackle the drawer pull and we were good to go.